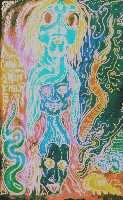 Crawling With Emily
Personnel:
Karl Gaylin: Guitars, vocals, drums
Fritz Capell: Guitars, vocals, drums
Troy Hansen: Bass
Crawling With Emily began playing music for coffee shops. They didn't really mean to be a band, as they explain, it just happened. They played calm, catchy, jangly guitar instrumentals, intended to entertain but not intrude. After doing this for some time, the coffee shop scene began to bore them, and they decided to write some lyrics and form a regular band.
They released two CD's. The first was a collection of their coffee shop favorites, futuristically entitled 'InStruMentals'. The second was of their subsequent work, titled simply 'Crawling With Emily'.
The first CD is very interesting and melodic, if not dramatic. In a way, it seemed to have hit its target - simple, tuneful, and beautiful, if not a little bit weird. But these guys can't not be a little weird. It's not jazz, it's not easy listening, it's just - well, it's just Crawling With Emily.
Their second CD is best described as quirky. They carried forward some of the easygoing spirit of their coffee shop days, coupled with teenage angst, hard-rocking melancholy, random sampling, and just plain unpredictability. The results were a very bizarre smattering of guitar-driven tunes, with lyrics ranging across many levels of the young-adult experience. It did get the attention of The Oregonian, who published a Review of it.
They went on a national tour in 1991 and subsequently broke up to pursue other projects.
line art: Troy Hansen watercolors and treatments: Fritz